Welcome to the Cowboy Connection!

This is the January edition of Cowboy Connection from the Office of Undergraduate Admissions at Oklahoma State University.
Welcome to the new year! We hope 2021 starts off on the right foot for you!
---
Admitted Student Days
Have your students join us for Admitted Student Days! We are offering a number of dates to join us on or off campus.
Admitted Student Days, for students who have been admitted to Oklahoma State University, offers information sessions designed to ease the college transition and provide the opportunity to meet other students planning to join the Cowboy family.
Dates are as follows:
Friday, Feb. 5
Friday, Feb. 12
Saturday, Feb. 13
Friday, Feb. 26
Saturday, Feb. 27
Friday, March 5
Saturday, March 6 (Virtual only)
Find more information on our landing page here.
---
Financial Aid at OSU
OSU began awarding financial aid in December. Admissions counselors are available for one-on-one appointments to help students through the process and to answer questions. Our Priority Scholarship Deadline is Feb. 1. We hope you will encourage your students to apply to be considered for scholarships and financial aid whether they have test scores or not.
Please tell your students to continue checking back often at my.okstate.edu as awards are being made on a rolling basis. Students must log in and accept their financial aid. Some awards must be accepted by May 1 or they may be canceled. For more detailed instructions on accepting financial aid, direct your students here.
---
Enrollment Deposit Opened Dec. 1

Admitted students can now submit their $300 enrollment deposit, which will allow them to register for housing and orientation and enrollment beginning Feb. 1.
Students who are eligible for a Pell Grant as determined by the Free Application for Federal Student Aid will complete the enrollment deposit section of their application portal checklist, and their enrollment deposit will be deferred until their fall semester. The enrollment deposit can be refunded in part ($250) until May 1.
---
The FAFSA is Open
Remind your students the Free Application for Federal Student Aid (FAFSA) opened Oct. 1. Students should fill out the 2021-2022 FAFSA, using OSU's school code of 003170, as soon as possible to maximize their financial aid potential. For more information on what to expect, students can view our Understanding College Financial Aid videos here.
---
Test Optional Admission
Please instruct your students, if they have not already, to go back into their application portal and let us know if they cannot take the ACT/SAT test. This will allow us to consider them for test-optional admission.
---
GPA-Only Scholarship Opportunities
OSU has made changes to its in-state and out-of-state scholarships, including the introduction of GPA-only scholarship criteria!
We welcome your students who have had difficulty taking the ACT/SAT tests to check out the changes to the Academic Excellence Award for Oklahoma students and the Out-of-State Achievement Scholarship for out-of-state students and encourage them to apply now.
---
New Music School Nearly Completed
OSU's Michael and Anne Greenwood School of Music is unveiling their brand new facility located just south of the McKnight Center for the Performing Arts.
A world-renowned program for music higher education now has a state-of-the-art facility with new classrooms, gorgeous rehearsal spaces, individual practice spaces and recording studios with frontline technology! All are offered alongside a high-quality faculty with a combined professional and educational skill level that rivals music training programs the world over.
The Greenwood School of Music serves students seeking music, music education, music performance, and music industry bachelor's, master's and doctoral degrees.
---
OSU Army ROTC
Do you have any students interested in commission as an Army officer? They can learn more and apply now for an Army ROTC scholarship!
Students can attend OSU and participate in Army ROTC simultaneously and commission as an Army officer.
Rising high school seniors may apply for the scholarship now. A National Board awards 4-year and 3-year advance-designee scholarships to qualified applicants.
The scholarship can pay either tuition and fees or room and board; a $420/month stipend, and $1,200 per year for books. Scholarships are awarded based on academic achievement, participation in athletics and demonstrated leadership skills.
After graduating from Oklahoma State University, Army ROTC Scholarship recipients will serve as an officer in the regular Army, Army National Guard or Army Reserve.
Important dates are as follows:
Application deadline for 2nd National Selection Board: January 25 - 29, 2021
Deadline to begin NEW application for ROTC Scholarship:
February 4, 2021
Application deadline for 3rd National Selection Board: March 15 - 19, 2021
---
Slate.org
Slate.org is a free service provided to school counselors from the makers of Slate, the leading college admissions software. This site allows you to:
Update and share school information.
Create and manage school visits and college fairs.
View applicant information and update materials for your students who have applied to Slate college partners.
Oklahoma State University has been a Slate partner since 2012 and we invite you to sign up today. For assistance, view their help site here. If you have specific questions about Oklahoma State information available in Slate.org, please contact David Mariott at david.mariott@okstate.edu.
---
Language Placement Test

Students who enter OSU with at least one year of high school French, German, or Spanish may take a free placement test that can allow them to receive up to six credits of language courses for free. If they have taken American Sign Language, Arabic, Chinese, Greek, Japanese, Latin or Russian, they may also receive advanced standing credit. For details, visit OSU's Department of Languages and Literatures website.
---
Materials Request Form
Need OSU recruitment materials? Visit our site to request publications and other items as our inventory allows.
---
Follow Us on Social Media
If you don't already, please follow us on our social media accounts by clicking the Facebook, Twitter, Instagram and Snapchat icons at the bottom of this email. We post often, and it's another great source of information about what's happening on campus.
---
Important Dates

Oct. 1: The Free Application for Federal Student Aid (FAFSA) opened
Dec. 1: The enrollment deposit opened
Feb. 1: OSU's Priority Scholarship Deadline
May 1: Deadline for accepting some scholarships
July 1: OSU's Final Scholarship Deadline
---
Share This Newsletter

Know someone who should be receiving this newsletter or want to add yourself? Submit the contact information for principals or counselors online and we'll add them to our mailing list!
Your OSU Counselor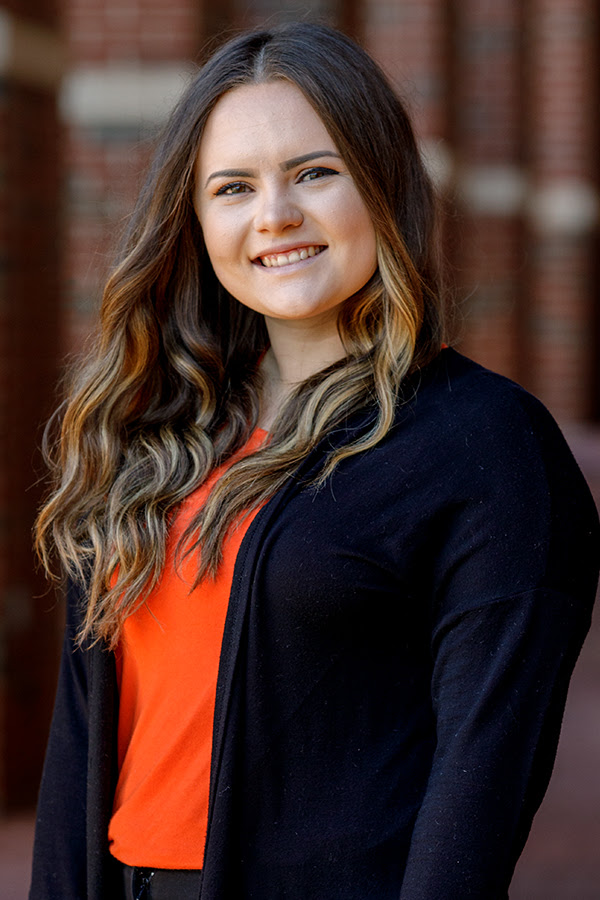 Brooke Robertson
osubrooke@okstate.edu
405-334-6920
NSU Announcments
January 22 is Native Strong Day
This event is a special recruiting event for Native American Students!
February 1 Honors and PLC scholarships are due
The Honors Scholarship focuses on ACT scores. There are three scholarships offered within this bundle, the first of which is for students with an ACT score of a 28 and a GPA of 3.5. The second of the Honors scholarships is for students with an ACT score of 28 and a GPA of 3.8. The third scholarship offered within the Honors program requires a 30 on the ACT and a 3.5 GPA. These are the highest paying scholarships NSU has to offer. If you have a student who meets these requirements, I am begging them to apply!
The PLC scholarship focuses on leadership skills, community service, involvement, and networking. Students must meet the ACT requirement of 20 and have a GPA of 3.25. These students are usually very well-rounded. They do a lot of networking and are involved on campus. They work hand-in-hand with the university president for many events. I was a scholar in this program so if students need any assistance in this please reach out.
February 13 RiverHawk Jam
This is our Tahlequah college preview day for high school juniors and seniors in the spring. Details for our next event are coming soon. At previous RiverHawk Jam events participants have enjoyed a FREE NSU T-shirt, FREE lunch, FREE passes to the NSU Men's and Women's basketball games, and chances to win scholarships and giveaways. That event may look a little different this year but we are still going to try to make it worth it and FUN!
March 1 Freshmen Scholarship Deadline
These scholarships are requirements based, first come, first served. If a student were to fill out this application it puts them in the running for five scholarships if they meet the requirements.
March 6 Admitted Student Day
This event is a day of celebration! We do this so we can have a day of fun with admitted students to congratulate them on their next steps in life. Last year we referred to this day as "RiverHawk Hype" and hype it was. We had so much fun bringing cool experiences to our incoming students last year and we can't wait to see the new and innovative things we come up with for 2021.
ECU ~ Senior Day Nov. 4th Register at ecok.edu/seniorday
Friday,Nov. 13, 2020 and Friday Jan. 22, 2021 ~ Get an in depth look into academics, scholarship and student involvement by meeting current students and faculty from the academic colleges. This event is jam packed with great information about Central!
For more information about these events and to register go to : www.uco.edu/tours or call 405-974-2610
| | |
| --- | --- |
| This month: Free SAT® & ACT® Bootcamps | |
| | |
| --- | --- |
| Expert instructors tackle common question types and test strategies | |
The Leadership Experience (TLX) 2020, hosted by the President's Leadership Council at Oklahoma State University!

TLX is a two-day leadership conference on March 7 - 8 open to all high school juniors and seniors! Formally known as Conclave, TLX is dedicated to redefining what it means to be a
leader through student-organized small groups and team-building activities, leadership workshops and speaker presentations. It will be an unforgettable weekend of fun and
community where we explore what it means to be a transformational leader and how one's identity ties in with the concept of leadership.

Please have your student utilize this checklist to ensure that all necessary forms have been paid, completed, scanned and emailed to osuleadership@okstate.edu no later than March 1.
Signed OSU Release and Assumption of Risk Form
Signed Medical Release Form
Payment
The registration fee for attending The Leadership Experience at OSU is $110.00 . This fee covers the participants lodging, meals, conference materials and T-shirt. In order to confirm your student's place at the conference, we need to receive their nonrefundable registration fee, T-shirt size request, liability and medical release forms. Participants will be staying at a hotel and are responsible for their transportation from the OSU campus to the hotel.

Students can register and pay online here.
UCO PGA Golf Management Program Preview Day for High School Students
Friday, March 6, 2020
For more information or to sign up please contact Lindsey Cook at lcook6@uco.edu
DEADLINE: Feb. 28th
NSU dates: March 2 Freshman scholarship March 7 RiverHawk Hype-Admitted Student Day April 1 Junior Day Mat 1 Transfer Scholarship Day
EASTERN OK STATE COLLEGE, SPRING 2020

February 8, National ACT Test, Wilburton
February 13, Residual ACT Test, Wilburton
February 20, Residual ACT Test, McAlester
February 21, Scholarship Deadline!!
March 5, Residual ACT Test, McAlester
March 12, Residual ACT Test, Wilburton
April 4, National ACT Test, Wilburton
April 7, Interscholastic Contest, Wilburton
April 9, Residual ACT Test, Wilburton
April 14, New Student Enrollment for Summer and Fall 2020
April 16, Residual ACT Test, McAlester
May 7, Residual ACT Test, Wilburton
June 13, National ACT Test, Wilburton
June 18, Residual ACT Test, McAlester
June 25, Residual ACT Test, Wilburton
IMPORTANT DATES for NSU
February 3rd, 2020 - Honors + Leadership Scholarships Deadline
February 15th, 2020 - RiverHawk Jam
March 2nd, 2020 - General Freshman Scholarships Deadline
March 7th, 2020 - RiverHawk Hype (Admitted Student Day)
April 1st, 2020 - NSU Junior Day
Interested in pursuing a career in beauty or design? Explore different potential careers and see what it's like to work in a creative field at Clary Sage College's Junior & Senior Day!

Students will participate in three different program sessions where they will hear from speakers, participate in a hands-on activity, and learn all about the Clary Sage College admissions and financial aid process.

Get ready to experience Clary Sage College through the eyes of a student!

College visit letters will be given to students when they check-in at the registration desk.
Important Dates for OSU

Feb. 1: OSU's Priority Scholarship Deadline
Feb. 1: Housing application opens
Feb. 1: Registration for orientation and enrollment opens
May 1: Housing refund deadline
July 1: OSU's Final Scholarship Deadline
Northeastern State University
2-3 PLC/Honors Scholarship Deadline
2-15 RiverHawk Jam
3-2 Freshman Scholarship
4-1 Junior Day
5-1 Transfer Scholarship Day
Oklahoma State University Dates:
Spring 2020
1-25,3-14, 5-16, 6-27, 7-11 ~ Saturday Campus Tour
2-1 ~ OSU's Priority Scholarship
2-21, 2-22 ~ Admitted Student Days
4-18 ~ Junior Day
7-1 ~ OSU's Final Scholarship Deadline
NSU Important Dates:
Feb. 3 – PLC/Honors Scholarship Deadline
Feb. 15 – RiverHawk Jam
March 2 – Freshman Scholarship Deadline
March 7 – Admitted Student Day
PAY FOR COLLEGE: HOW TO APPLY FOR SCHOLARSHIPS
Presented by Francesca James, Author of How to Apply for College Scholarships and Save Money